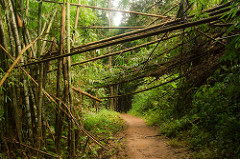 Thailand's Royal Forest Department has developed a smartphone application to allow people looking to buy land to check whether plots encroach on protected forest areas, according to The Nation.
The app, Forest4Thai, uses the Thailand DSI map to show protected areas to people interested in land purchase in Thailand. As well as allowing potential buyers to ensure they're not purchasing illegal plots, it also aids police in investigation land corruption cases.
Royal Forest Department Director-General  Chonlatid Suraswadi championed the app in an inspection of a Chiang Mai resort named 'Hi-Society Hill', which was found to have at least two plots built on protected areas.
Land encroachment has been a long-standing problem in Thailand, and so far, 27 prosecutions have been made in Chiang Mai along for the crime.
Read the full story here
Related Articles: Police Crackdown on Illegal Villa
Image: Jonathan Buffard